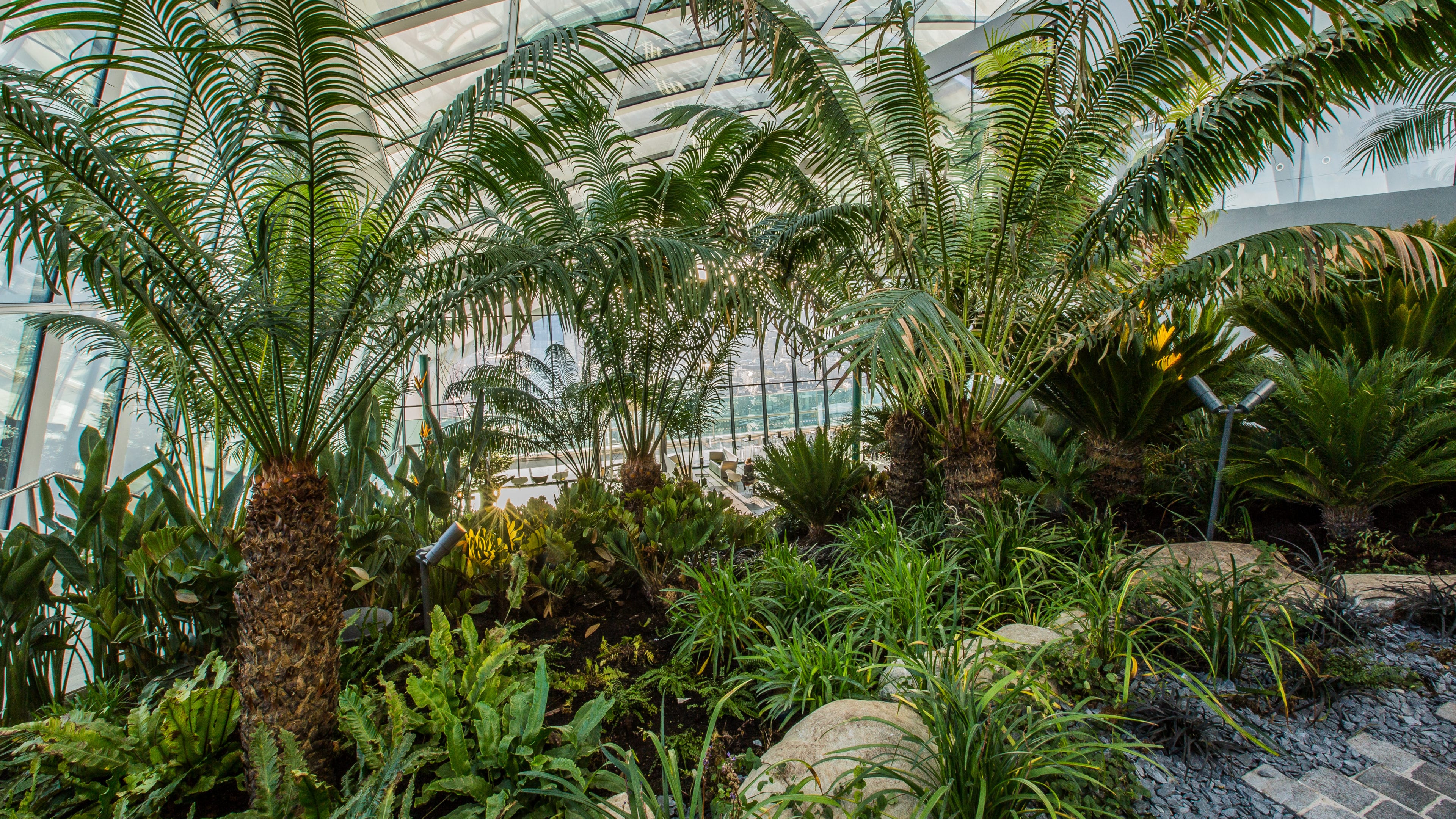 What is Sky Garden?
ABOUT SKY GARDEN
Sky Garden is London's highest public garden – a vibrant social space with 360-degree views of the city's iconic skyline.
Here, you can experience London from a spectacular viewpoint. Enjoy lush greenery, exquisitely landscaped gardens, observation decks, and an open-air terrace.
Access to the Sky Garden is free of charge, but spaces are limited. Visits must be booked in advance through this site, and can be made up to three weeks in advance. 
OUR GARDEN
Sky Garden was designed by award-winning landscape architecture practice Gillespies.
To create our richly planted terraces, the designers opted for a variety of drought-resistant Mediterranean and South African species. Individual plants were chosen to work in harmony with the space – flourishing all year round in full colour.
Among the flowering plants are African Lily (Agapanthus), Red Hot Poker (Kniphofia) and Bird of Paradise (Strelitzia reginae) – alongside fragrant herbs such as French Lavender.
HISTORY
Sky Garden is located in 20 Fenchurch Street – designed in 2004 by world-renowned Uruguayan architect Rafael Viñoly.
With his distinctive design, the building is stunning on an aesthetic level – incorporating expansive sheets of glass, and growing larger as the eye travels upwards.
CHARITY
The 20 Fenchurch Street Legacy Fund was set-up to improve employment prospects and opportunities for people living in London's most deprived areas.
The 20 Fenchurch Street Legacy Fund was founded in July 2015, to establish a strong and co-ordinated charitable aim for the building. This unique and award winning model combines resources from the 20 Fenchurch Street Building Owners, Occupiers, Contractors and voluntary donations from visitors to the building's Sky Garden. Donations are then carefully awarded to local charities to successfully tackle the high unemployment rates across the East End of London.
The East End continues to have some of the highest unemployment rates in the capital, with Tower Hamlets representing the highest unemployment rate in the country at 7.7%and only 15% of jobs in Tower Hamlets go to local residents. This particularly affects young people. Across London, young people are 2.6 times more likely to be unemployed than the rest of England.
Now Open
New Gift Shop & Café
Visit our brand new gift shop and café